Due to this year's SMM trade show being the most successful of recent time, CODie's SMM Team was very satisfied at the close of the exhibition. The audience welcomed the new features of CODie's maritime-management-center (MMC), a software suited to manage the vessels and the shipping company.
New Software Highlights of CODieBOARD# maritime-management-center
The new PMS functionality
For the first time, industry visitors have been able to see a glimpse of the MMC planned maintenance feature.
Our new PMS is cutting edge. It enables you to change intervals and equipment properties for the whole fleet with one click. This works because parts are created in a central place and then they interlink to the vessels.
Furthermore, the PMS allows you to run equipment statics across sister vessels or ships with similar machinery. The PMS will be completely interlinked with the spare part management and purchasing system. It will also give a unique ID to every stock item in order to track products on shelf and how they are used. And thanks to smart assistance, you can suggest which maintenance jobs should be completed together.
Convert your Data from AVECS TiTAN
Over the years, we received many requests from our customers to take over data from 3rd party systems, like the old AVECS TiTAN or QDMS programs.
As the database server in use by TiTAN and QDMS is incompatible with new versions of Microsoft Windows, such as Windows 10, these companies are now running into trouble when trying to keep their systems up-to-date and safe.
We offer cross-upgrades as special features from former AVECS licenses free of charge so that users can save on the usual high initial costs when going from one Fleet Management System to the next.
If you are still a user of AVECS systems, like TiTAN, QDMS or AiDA, we are proud to announce that we have a solution for you that will save you time, effort and money. Please do not hesitate to contact us!
One stop for Everything
Some features of the maritime-management-center have caused jaws to drop. For example, with the new dashboard functionality of MMC: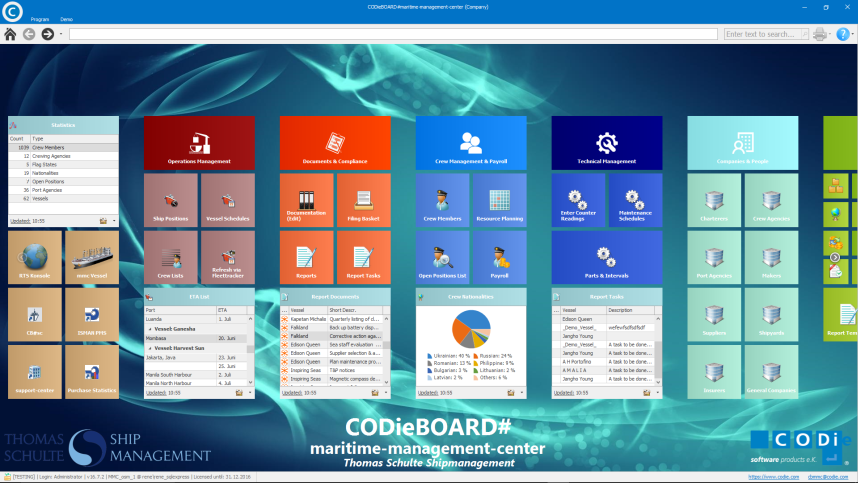 It is now possible to open any external software, file or website directly from our main screen. This makes working much more convenient as users do not need to leave the software or switch screens.
When opening a website like FleetTracker or ShipServe, our MMC turns into a browser. Thanks to the ability to open everything in a new window, you can always switch back fast.
Smart Fleet Reporting
The enhanced reporting tool of the MMC and its statistic functions have been further revealed and found an interested audience at the SMM.
The reporting function allows users to create any desired report like internal audits, NC, incident reports, newbuilding claims, etc. by using a modular approach. You define what types of data fields and functions a report should have, such as standard attachments or forms.
The workflow is then monitored by an integrated task management system, informing the responsible person about new or due tasks.
What you see is what you get
No one likes working with complicated software, so we decided to make software user-friendly again. We created a full document management system based on visual folders and paper sites to handle your ISM, ISPS and SIRE needs.
This DMS comes with a fully implemented editor, allowing easy editing of internal documents, full text searches across the system, and hyperlinks between documents and chapters. Updated documents are then automatically transferred to interlinked fleets and vessels.