About us
---
---
Read on to discover the interesting story of CODie:
An almost 30-year journey, which started out in a small attic, full of cables, computer parts and screws. CODie -
CO

mputer

Die

nste (Computer Services).
---
CODie today
---
---
CODie today is a successful global company, headquartered in Germany. Divided into a maritime and a financial division, we serve over 2.000 companies.
We believe our task is to support you by delivering tools that allow best practice management.
All companies need excellent support, especially when it comes to game-deciding software. We are proud to provide you with best customer support, we care about you and we show it.
Our Team
CODie was always a family-owned and owner-driven company. Since 1990 our team puts all their heart into our products and services to guarantee your full satisfaction. Successful companies stay only successful if everyone works with love and commitment, and we want to use this page to say thank you!
Finance Business
We provide insurance brokers, financial advisers and consultants with a management solution.
Our system CODieBOARD# finance-center is the heartbeat of your company, enabling complete control over all business processes. It improves your sales with detailed campaigns, reducing your liability risks and increasing productivity with smart assistance.
Maritime Industry
We have helped to keep your vessels tidy and afloat for over 20 years.
The maritime arm of CODie delivers the best management software for vessels and shipping companies. As a result you reduce shipbuilding costs, improve fleet efficiency and hire crews with an eye on skills and future needs.
Apply!
---
---
CODie is a well known trainer of young talent. We take pride in preparing our apprentices for a demanding business world. Many former trainees have started their own businesses, developed computer games or taken a major role in creating the Tsunami Warning System GITEWS.
Do you like to work in small team, receiving demanding responsibilities and complicated tasks? Then give it a try.
---
Andreas Bargfried
Founder, owner and CEO. Andreas studied as a computer scientist and has managed CODie's affairs for 30 years.
Rene Jahncke
Rene is Director of the maritime business arm. He first worked with Andreas in the 1990s for AVECS GmbH
Matti Bargfried
Matti started his career in 2003 as an apprentice and serves today as Head of Marketing.
The Beginnings
---
---
CODie was founded on 1st of March 1990, just four months after the Berlin Wall fell, an event which allowed the people of East Germany to pursue their own dreams.
It was a time of chaos and great uncertainty, no one knew what Russia would do, money was devalued and right up to the last minute France and Britain campaigned against a possible unified Germany. Not knowing the outcome, Andreas and his wife still decided to take a chance—a bold move, considering their situation: little money, a four-year-old son and a second one on the way.
However, at this time many Germans heard the call of Fortuna, so Andreas and his wife opened up a business in their attic selling computer hardware, network cables and planned UNIX and NOVELL networks. This was to grow soon.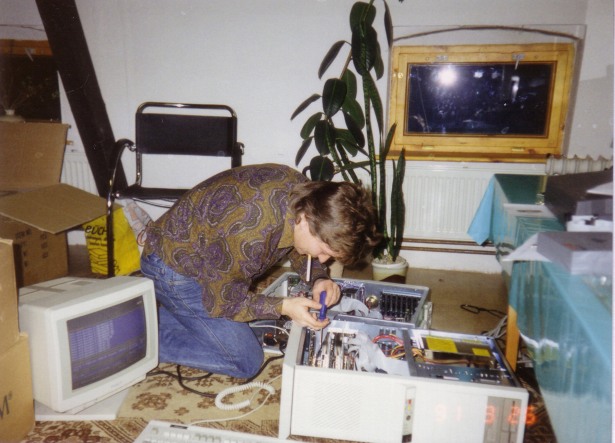 Our story
After the company's foundation in 1990, it had to pre-finance the expensive hardware and network components, so they were in need of financial support.
At this time Germany's economy was in free fall and the state tried desperately to counter this with cheap credit. Andreas secured $40.000 credit from a state-run bank. His collateral? A couch, a toaster and a TV. But it worked, and soon the first customers required services.
1990

Foundation

At the beginning CODie offered a number of different services and products. For example, we built customized computer hardware, and we planned and realized Unix and Novell networks.Another business field was the development of unique software systems (Microsoft DOS / dBase).

1991

First Insurance Broker Software

In the winter of 1991 CODie was entrusted with the development of a business and management application for insurance brokers. The system allowed to manage insurance segments, sub-agencies and customer contracts. A further requirement was commission calculation based on customizable algorithms.The resulting software "SmartProvis" was to become the predecessor of our current insurance broker management system "CODieBOARD# finance-center".

1992

CRM Software

We developed the "SmartProject" system to provide a solution for bookkeeping, materials and inventory management.

A number of other systems were created on commission: CRM software for a doctor's practice, payslip calculation for construction companies, a management system for the federal water industry and software for dairy farming companies.

1995

First Maritime Software

In 1995 we were selected by one of Germany's biggest ship managers to create a system for the technical supervision of vessels. The maintenance control system was able to calculate and manage planned maintenance as required by the ISM Code.This software became the precursor of CODie ISMAN and later the maritime-management-center.

1996

Investment Planning System

The supermarket chain "SPAR" commissioned CODie to develop investment planning software to calculate and control new franchise projects. The software was in use until SPAR Germany was acquired by another supermarket chain in 2004 (EDEKA).

1999-2006

Expansion of Maritime Software

Our planned maintenance software for vessels was renamed "CODie ISMAN". The software had been extended with a number of optional modules such as purchasing, compliance management (ISM/ISPS) and stock keeping. Today over 300 vessels use our system, and it has also been used at the German Antarctica Station.

2007

Gen 2.0 Insurance Broker System

After five years of intensive development our current management system for insurance brokers was released. It is scalable, and is used for commission calculation, plus contract, customer, and document management. It is used by big players like Verivox and a number of famous brokers. The development continues.

2010

Ship New-building Software

CODie created the "CODieBOARD# supervision-center" to ease the management of yard teams and to improve the efficiency of shipbuilding constructions. The software is used for claim, damage, warranty and malfunction management and can be operated during sea trials.

2013

The maritime-management-center

The development of the "maritime-management-center" starts! A comprehensive system to manage the complete ship management company. It allows technical fleet management, crewing (including payroll calculation), reporting and full compliance plus analytics. All other maritime systems will be incorporated.

2014

Crew Management

At the SMM exhibition in Hamburg, the world's biggest maritime trade fair, CODie revealed its new maritime-management-center system. The crewing function, which also includes resource planning and payroll was released first.

2015

Insurance Broker System for Startups

We created an "easy to use" version of CODieBOARD# finance-center, adapted to the needs of startups and one-person enterprises. This software is cloud-based and is provided in return for a monthly fee. In addition, the skin and all screens have been reworked and further optimized.

2016

maritime-management-center goes V1.0

Our maritime-management-center is published first time in version 1.0 at the maritime "SMM trade fair" in Hamburg! Version 1.0 contains crew management, document management (compliance) and fleet reporting. The developments continue.